The past few years brought us some eventful memes. From people storming area 51 to the cake trend where every normal object (such as crocs or an amazon package) are cakes. Nothing could be trusted in that time. We started this year strong with the Capitol invasion in the United States. This resulted in many people taking note of the people invading the Capitol such as an old lady. Many questions were asked how the old lady came into the building; If she could, who couldn't? Was the security of the white house really that bad? Other people were interested in this man stealing property, smiling and waving as if he were on a school trip. Due to all these pictures and videos they were luckily traced and held responsible for their actions.
A day after that theories and speculations came forward that Jeffree Star hooked up with Kanye West, people were analysing Jeffree Star's old songs and made the link to Kanye West. They also did this with Kanye West songs. Even though this is just a conspiracy, a lot of information adds up. However, Jeffree Star posted a Youtube video debunking the theories. It was fun as long as it lasted, and a weird start to the new year as well.
Then we of course have the iconic moment of the Inauguration Day with Bernie Sanders. Bernie was dressed very casually with his mittens. People got the impression that it seemed as if he quickly came by for a second to watch and then leave. A picture spread around on the internet and quickly memes were made. From album covers to music videos: Social media was covered with edits of Bernie.
In February there was an incident that happened. A woman named Tessica Brown had accidentally used industrial gorilla glue spray instead of hair spray. Because of this mistake her hair was glued to her scalp. She made a video about it on social media which quickly blew up. She is now known as the "gorilla glue girl". After 15 tries to wash it out of her hair she asked for help online. Quickly money was donated and she could go to the doctor whom helped her out. But, of course, social media was quickly flooded with memes about it.
Another major event that happened was the cold weather in Texas. For many people there was no electricity or water. Everything was frozen and inaccessible. During this, the senator for Texas, Ted Cruz, fled to Cancun with his family while many people suffered. Someone posted this tweet of Ted Cruz.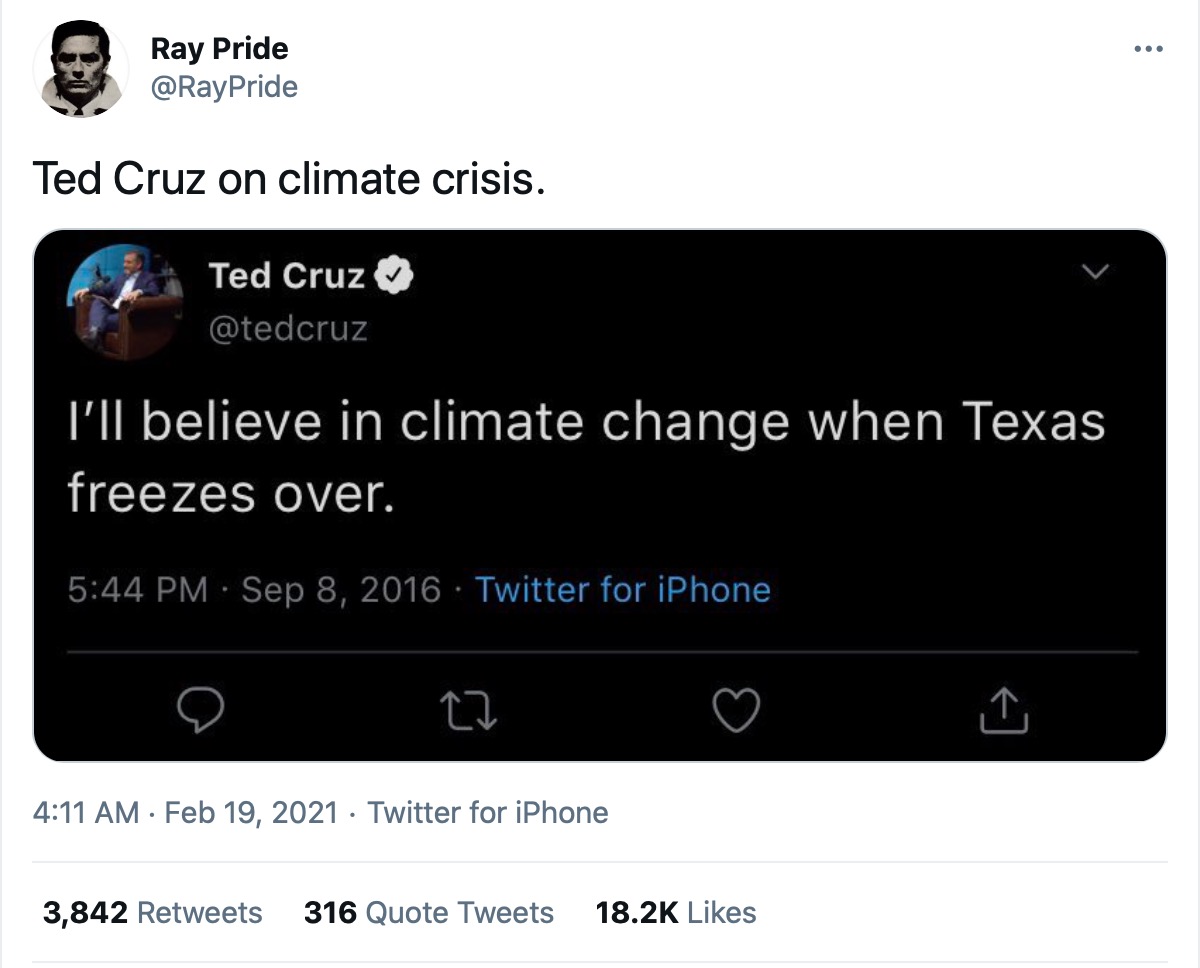 Hopefully he'll now believe in climate change. Even though this was a hard period many people were able to make memes and jokes out of it as well. Luckily the weather is getting better.
People are now discussing if gorilla glue girl or Texas should be the next meme in February. What do you think? What else is there to expect in 2021? We're only two months in.
By Guzel Celik
The Crow's Nest is a Greenwich Students' Union Student Media channel. The views expressed in this website do not necessarily reflect those of GSU, its trustees, employees, officers or the University of Greenwich.